Today, Glazier Woods is an idyllic setting for new homes, but the site – located just off Glazier Way - was once a welcome refuge for weary travelers who were escaping the tyranny of slavery.  
It's no wonder, then, that while we were building the homes, I often stood there and thought, "If only this land could talk," for few building sites have such an historically significant story to tell. 
It began in 1833 when Richard Glazier moved his family from New York to Ann Arbor which was incorporated as a village that same year.
Some two miles east of the village, Richard built a log cabin for his wife and children, including son Robert who was 16 at the time.
Robert married Maria Walton of Saline and made the cabin their home.  Eventually, he owned and farmed 300 acres surrounding it. 
Robert and Maria were ardent Quakers, the religious group which condemned slavery as both ethically and morally wrong.  
Simply stated, slavery contradicted the Quaker belief in the fundamental equality of all human beings, a belief which led many Quakers to become abolitionists, including Robert and his father.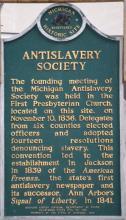 They were among the founders of the Michigan Antislavery Society, which was formed in 1836 at the First Presbyterian Church, then located at the southwest corner of E. Huron and Division Streets.  Today, this commemorative plaque marks the spot.
At its first meeting, 75 antislavery activists from six counties elected officers and adopted resolutions denouncing slavery. 
But Robert didn't stop with rhetoric or resolutions.  Despite federal law which made it illegal, he and other antislavery activists helped countless former slaves escape to freedom, often at great risk to themselves.   
Robert's home became an important "station" on the Underground Railroad, a network of secret routes and safe houses used by former slaves in their efforts to escape to free states and Canada.
As a "conductor," and considered to be one of the best, he provided safe passage to the next station. His route generally took him and the freedom seekers to Farmington, which was founded by abolitionist Quakers.
From there, they would travel to Detroit and then cross into Canada by boat.  
To further help the freedom seekers establish new lives, Robert earnestly and often successfully appealed to local merchants for donations.
Robert Glazier died in 1889.  In the following years, Glazier Way was named in honor of this pioneer family. 
The acreage Robert owned and farmed was gradually divided and sold. In the early 20th century, a home was built on the foundation of the original log cabin his father built.
By 2012, the home was surrounded by slightly less than 2 acres of the original Glazier property, and the door to the basement, where it is presumed that freedom seekers found rest and refuge, was still visible.  But with nature reclaiming it, the home was razed.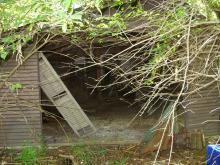 The property was further divided into four building sites, collectively named Glazier Woods, and we built beautiful custom homes on them. 
One of the the homes is situated very close to where the original log cabin once stood and its owners look out over the same sweeping view of the Huron River valley that the Glazier's and the freedom seekers once saw.
The view alone makes this site one of a kind.  Its history makes it all the more special and unique.
- Betsy de Parry, VP, Marketing and Sales
NOTE:  Many citizens of Ann Arbor and throughout Michigan played an important role in helping people find freedom. If you'd like to learn more, here are two great resources:
For guided tours of Ann Arbor and Ypsilanti landmarks, sites and homes along the Underground Railroad, look for "Programs" on the African American Cultural and Historical Museum web page and scroll to the bottom. 
Carol Mull's book, The Underground Railroad in Michigan is a fascinating look into antislavery activities in the state.