Congratulations to husband and wife team Bill Brinkerhoff and Kathy Sample as they officially open the doors for business at their Argus Farm Stop on Saturday August 16!
Their new year-round market will be brimming with locally grown produce, fruit, meat and dairy products and locally made bakery goods.  There's even a coffee bar featuring Ann Arbor's own RoosRoast and benches to encourage folks to hang out for awhile.
Opening The Argus is a big change for the couple.  Kathy has a background in chemical engineering and business, Bill in biotech.  But they'd always wanted to do a venture together, and they shared a lifelong passion for local food.  Growing Ann Arbor's local food ecosystem was the perfect fit.
But opening a business doesn't happen overnight.  Bill and Kathy diligently undertook the necessary planning, and when they were convinced that a local farm market would succeed in Ann Arbor, they needed a place to open the business.
That's when we got an email from Bill one Sunday morning last winter asking about the old gas station we'd recently purchased at 325 W. Liberty.  What a surprise!
Ann Arbor Builders bought the building because it was, frankly, an eyesore.  Built in the 30's, it hadn't been a gas station for years.  Its previous owners had hoped to open a medical marijuana dispensary but the building remained closed for several years. 
Meanwhile, The Mark – our seven-unit condominium building directly across the street – was well in the planning stages so when the gas station came up for sale, we jumped at the chance to buy it and clean it up, although we weren't sure exactly what we would do with it.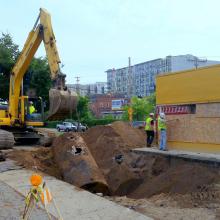 We had several inquiries, but when Bill and Kathy approached us, we knew immediately that a year-round market offering locally grown food would not only complement our condos but also be an exciting and welcome addition to the neighborhood and downtown…really all of the city.  Ann Arborites do love their local food!
During the past few months, there's been a flurry of activity – inside and out – as the building was transformed into its new use.  Old gas tanks were removed.  New windows installed.  Plumbing and wiring were updated.  Fresh paint was applied.  The list goes on. 
All the while, Bill and Kathy were rounding up local farmers – more than 50 in all -  who, as I write this today, are busy stocking the market.
And they can hardly wait to roll up the garage doors on Saturday, officially opening a vision that's been years in the making. 
The market will be open seven days a week, from 7am to 7 pm Monday through Friday and from 8 am to 6 pm on weekends.
All of us at Ann Arbor Builders wish Bill and Kathy great success!
- Betsy de Parry, VP, Sales and Marketing, (734) 216-5872